The
Hero Lost: Mysteries of Death and Life anthology
will be released on May 2nd. If you'd like to help get the word out, you can sign up to participate in our blog tour
here.
In honor of the anthology, I'll be spotlighting different contributors between now and its release in May. Today's blog post features fellow author L. Nahay, who contributed the story "Breath Between Seconds" to the anthology.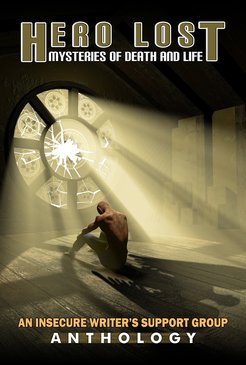 Do you have any tips for getting work done around other obligations? Do you have a writing routine you'd like to share? Any fun/useful writing habits? Any advice for other writers?
​
Don't stress about how other people are writing, or how much they manage to write. You can only write according to the time you are given and within the circumstances you are in. It's incomparable to anyone else.
What do you like to write about or what drew you to this anthology? Is there anything interesting about your background as a writer you'd like to share?
​
I seem to write about women- typically mothers--finding their way through traumatic situations. Since I was way too young to be a mother! I wasn't sure at first how I would relate that into this topic, but I knew she had to be a she, and she had to bend preconceived notions and be a soldier. With my female characters, I love writing a complimentary male figure--not specifically for romantic interests. I love the differences in how things are approached and handled by each, and how we compliment and challenge each other when respect is there. That came out very strongly, yet in a heartbreaking way, in 'Breath Between Seconds'.
What's your favorite recent book and/or one from your teen years or something from your to-read pile?
​
Recently, I'd say the On The Bones of Gods series by K. Eason (especially when listened to). It's a great mix of fantasy, old Nordic life and mythology, and a smart addition of unbalanced matriarchal government (any unbalanced government is bad, but this was a first glimpse into this opposing spectrum).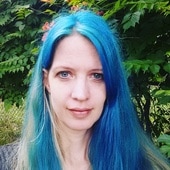 More about L. Nahay:
L. Nahay is an author of fantasy and an independent publisher through Midnight Tomorrow Books. She has always ever written. She is a mom to two monsters, and while she'd love to live the more wild way most of her characters do, she currently resides in Indiana. For reminders of life outside her stories, she enjoys reading, creating, camping, hiking, exploring, and time with those monsters of hers. To date, she has published the first book of her fantasy series entitled Red Moonglow on Snow, and an urban fantasy short story called The Dryad. She has also recently stepped into the world of Steampunk and bought the monsters a telescope. Be forewarned.