Some good news! My next young adult novel, coming out in Fall 2016 from Sky Pony Press, has a new title: BLACK FLOWERS, WHITE LIES. If you'd like to keep up with this kind of information, please consider subscribing to my
newsletter
.
And now, on to the Friday Five:
Five Tips for Staying Organized While Marketing a Book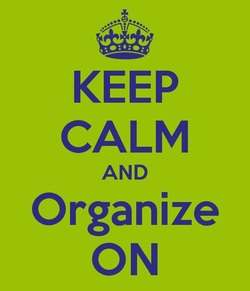 Promoting a new novel can be a whirlwind of activity. Here are five ideas for staying organized during the madness that is book marketing.

1. Publicity opportunities require the same information over and over again, so create a Word file with all of your frequently used links: your website, social media links, and book sale sites. Keep a version of your bio in the file, too, so you can easily cut and paste. I keep the file in the same folder as a copy of my book cover jpg and my author photo, that way the info is simple to access.

2. Keep track of interviews you've done. You can print them in a folder or bookmark them online, or even create a list of links on your website "media" page. But at some point when you've done quite a few, it's helpful to have a way to remember who you've spoken to and what you've said. You can also consider making a table. Here's a sample from mine:


3. Create an event "go" bag and keep it stocked with supplies for library panels, book festivals, etc. Include a display copy of your book, bookplates, favorite signing pens, bookmarks, and business cards. Consider bringing an envelope of small bills if you ever handle your own sales and need to make change. I also have a laminated "author signing today" poster of Pandemic's book cover, an inexpensive washable white tablecloth, scissors, and tape in my bag. (If you drive to an event that will provide copies of your book, it's still a good idea to bring extra books with you just in case. I've been to many events where there were "glitches" with getting an author's books in stock.)

4. Sometimes a book festival (or other event) is just too far or maybe the date doesn't work. Time passes and when people start buzzing about said event on social media, I may forget why I chose not to participate. To avoid these lapses in memory, I developed the "Not Doing" folder where I keep information on events I've decided to forego with a note about why.

5. Besides your regular to do list, keep a Kindness list. I jot down all the nice, helpful, kind things people have done for me during the process of launching and marketing Pandemic. An acquaintance writes a glowing review, an old friend travels to my book launch, another writer lets me know about an upcoming festival. During a process where so much is out of my control, keeping a kindness list helps me focus on the positive.

---
Please share any of your own writing/marketing organizational tips in the comments. This will be my last post for 2015, but I look forward to more blogging in the new year.