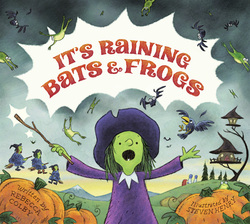 For today's Friday Five, I'm pleased to welcome picture book author and poet Rebecca Colby.
Rebecca is in the midst of a blog tour for her new picture book,
It's Raining Bats & Frogs
. As part of the tour fun, she's holding a virtual scavenger hunt. Since her latest picture book features a witch, look for fictional witch names mentioned in the tour posts. Leave a comment on each blog where you find a name (but please DON'T reveal the name). You can find other participating blogs and complete instructions on how to win
here
.
It's funny. I spent years and years writing books with the goal of getting published, but never really thought about what would happen beyond that point. When I finally realized my goal and my first book came out last year, I was at a loss as to what to do next. Below are a few of the things I learned along the way and my top five tips for debut authors. Thank you for having me on your blog today, Yvonne, and I hope what I learned will help others with a book coming out!
1. Keep writing!

This may sound like an obvious tip, but when you're caught up in the excitement of launching your first book, it's all too easy to find excuses not to write. And before you know it, months will have passed with nothing to show for it. While you may have met your goal of becoming a published author, it's time to set a new goal. Do you want to publish more books? Do you want a career as an author? In other words, are you in this for the long haul? If so, don't party so hard that you stop writing. By all means, celebrate your big day, but then immediately set a new goal and use your accomplishment to motivate you to write your next book.

2. Don't confuse writing-related activities with writing.

When I did start writing again, I didn't work on my next book. Instead, I spent hours and hours each week in marketing and self-promotion. There was my website to update, Goodreads and Amazon author pages to set up, a teacher's guide to produce, bookmarks to design, schools to contact for author visits, writing workshops to develop, blog posts to write, authors to follow and connect with on social media, and the list goes on and on. I found myself investing all my time in writing-related activities, all the while believing I was writing. But in actual fact, while I wrote thousands of words a week, none of these writing-related activities were helping me to get my next book written. And dare I admit, this week I've been researching witch names for my scavenger hunt instead of writing. For anyone playing along, one of the answers is Glinda.

3. Hold on to your day job.

I know it's very tempting to hand in your notice, but don't pack in your day job too soon. Although you sold your book and hopefully received a decent advance, that money will need to last you until the next book sells. And there's no guarantee that the next book will sell. It's true you now hold a 'Get out of the slush pile free pass' but that won't prevent you from continuing to rack up rejections letters. They are an inevitable part of the submission process at any stage of an author's career. The publishing gatekeepers may now open their doors wide to welcome your work, but that is still no guarantee they'll buy it. So take it from me, unless you can rely on someone else to support you, don't resign from a job with a steady pay check.

4. Make friends and champion others.

The kid lit community is one of the friendliest and most generous communities I know. Since becoming a children's writer, making friends has never been so easy for me. And that's what I'd suggest you do, if you haven't already: make writer friends and champion their work. Now I know you may be tempted to primarily promote yourself after your book comes out--and certainly indulge that urge for a short time—but don't be completely self-absorbed. Talking about yourself over and over will eventually get boring—for both you and others. Nor is it easy for some writers to do. After all, most of us are an introverted bunch. This is where your friends come in handy. Promote them! Introduce your friends to other writer friends and their work. I, personally, find it's much easier to talk enthusiastically about other author's books, rather than my own. Turn people on to what you have to say by turning them on to others. Connect with people who share your passion and whose work you love and then genuinely champion their work and promote them. If you're lucky, they might just choose to champion your work and promote you, too.

5. Enjoy the moment.

This is the moment that you've worked so hard for, and it's probably taken you a long time to get to this point. Don't forget to congratulate yourself, and whatever you do, be sure to savour the moment. There will be time enough later to worry about your Amazon ratings and book reviews. You'll never have another first book release. Put all the new stresses that come with being an author aside, and celebrate what you have achieved.

---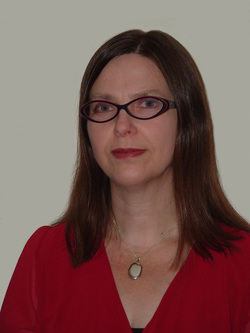 Rebecca is a picture book author and poet. Her books include:
It's Raining Bats & Frogs
(Feiwel & Friends/Macmillan, 2015) and
There was a Wee Lassie who Swallowed a Midgie
(Floris Picture Kelpies, 2014). Before writing for children, Rebecca inspected pantyhose, taught English in Taiwan, worked for a Russian comedian and traveled the world as a tour director. Learn more about Rebecca at
www.rebeccacolbybooks.com
or follow her on Twitter at @amscribbler.