I'm pleased to have Darlene Beck Jacobson guest blog today about the cover of her upcoming historical middle grade novel, WHEELS OF CHANGE, which will be available on September 22nd. Be sure to visit
Roseanne Kurstedt's blog,
the next stop on the WHEELS OF CHANGE TOUR, on Tuesday, August 26th.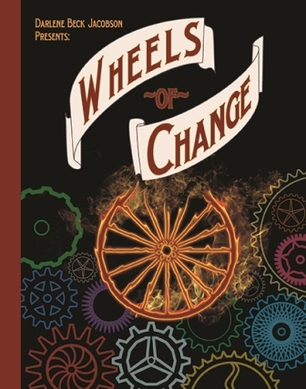 Five Things About the Artwork and Cover Design for WHEELS OF CHANGE by Darlene Beck Jacobson

1. The book was originally titled THE CARRIAGE MAKER'S DAUGHTER, but in order to appeal to a wider range of children --namely boys --my editor and agent thought a new titled was needed. WHEELS OF CHANGE (WOC) was the result.

2. The Illustrator was MARISSA MOSS who also happens to be the publisher and Editor at CRESTON BOOKS. Before I saw any art, I envisioned a cover with a carriage or forge and a girl in the shadows. Her concept of the wheels, gears and cogs of progress surrounding the wagon wheel on fire was brilliant and inspired!

3. I decided early on that I wanted some small illustrations at the beginning of each chapter. Silhouettes were popular during the early 1900's and Marissa agreed to try that. I made a list of suggestions for possible objects for each chapter and she went to work.

4. Simon Stahl was responsible for cover and book design. It reminds me of a circus or event poster. Such posters were popular at the time. I love how it says: Darlene Beck Jacobson Presents…To me, that sets the scene for a story taking place in another era.

5. CRESTON BOOKS published WHEELS OF CHANGE without a book jacket. The blurbs and cover art appear right on the book, so there is no dust jacket to lose. And, the fact that it was printed in the good old USA --using sustainable forestry practices --feels great.

---
View the WHEELS OF CHANGE book trailer
here
.
Story summary:
"Racial intolerance, social change, sweeping progress. It is a turbulent time growing up in 1908. For twelve year old EMILY SOPER, life in Papa's carriage barn is magic. Emily is more at home hearing the symphony of the blacksmith's hammer, than trying to conform to the proper expectations of females. Many prominent people own Papa's carriages. He receives an order to make one for President Theodore Roosevelt. Papa's livelihood becomes threatened by racist neighbors, and horsepower of a different sort. Emily is determined to save Papa's business even if she has to go all the way to the President."
---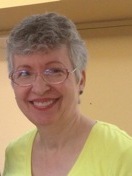 Darlene Beck Jacobson has loved writing since she was a girl. She wrote letters to everyone she knew and made up stories in her head. Although she never wrote to a president, she sent many letters to pop stars of the day asking for photos and autographs. She loves bringing the past to life in stories such as WHEELS OF CHANGE, her debut novel. Darlene's stories have appeared in CICADA, CRICKET, and other magazines. When not writing, Darlene enjoys baking, sewing and tea parties. She also likes hanging around forges watching the blacksmith work magic. She's never ridden in a carriage like the one in the story, but hopes to one day.
Her blog features recipes, activities, crafts and interviews with children's book authors and illustrators. She still loves writing and getting letters. You can follow her on Twitter
(@dustbunnymaven)
and check out her website at
www.darlenebeckjacobson.com
.