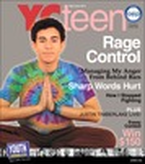 YCteen Magazine is currently running a teen essay contest based on the following prompt:
If you could change someone's life, who would it be and what would you change? Why? It could be someone you know personally, a stranger you've observed, or yourself.
Writers must be between the ages of 14 and 19. The nonfiction essays (they must be true!) are due October 3, 2014, and can't be more than 800 words. First prize is $150. See the
YCteen Contest website
for complete rules and guidelines.