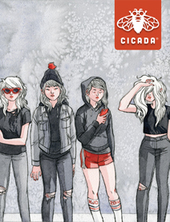 As I mentioned in
one of last month's Teen Tuesdays
, Cicada is a magazine written for teens ages fourteen and up. It's a paying market, that publishes fiction, poetry, first-person nonfiction, and alternative comics. Today, I'm happy to feature an interview with Associate Editor Anna Neher to give you more information about
Cicada.
What sets Cicada apart from other YA literary magazines?
Giant bug on the cover. In the top right corner. You can't miss it. Also, our staff's abiding passion for Viking jokes. We have, like, 4 issues in a row with either a Viking joke or a Beowulf joke or both. Our comics content is pretty unique (Rookie's the only YA magazine--I think?--with a solid comics presence). We also host an online writing forum, The Slam, where writers ages 14-23 can post work and get critique--we publish work from the Slam regularly in our annual Best of The Slam and in our regular Works in Progress feature. Unlike Polyphony HS or Teen Ink, we publish work by teens and adults. Cicada's also interested in the creative process--we run Behind the Scenes features on the making of the magazine, and our Works in Progress feature lifts unfinished poetry and prose from The Slam alongside some of the most exciting comments and critiques. We also interview writers & artists regularly. Our readers are writers and artists, and we're interested in unveiling the creative process and giving them the tools to get started!
What is the most common mistake or flaw that you see in submissions?

I actually love gorgeous disastrous mistake-ridden manuscripts! Sometimes the flaws are the most interesting part of a story. Sometimes they make the story, they need to be there, they're there because the writer has something to say that doesn't fit into any of the literary forms available. Sometimes they don't serve the story, and that's what editors are here for. But I'll take a glorious mess over something bland and perfectly edited. ANY DAY.

That being said, that which annoys me most in a submission: moralizing at teens. I mean: UGH.

How would you characterize current submissions? Are there any trends in teen writing that you've noticed?

We get a ton of genre fic right now, which is awesome, I love fantasy, sci fi, and dystopian fictions. Realism for sure--lots of investigations of the relationships between parents and teens. I'd love to see more investigations of relationships between teens and teens, by the way, especially friendships.

Besides the submission guidelines provided online, could you provide more information about what type of creative work appeals to you?

In YA right now, I love Bennett Madison, Hilary Smith, Sarah McCarry, David Levithan, Michelle Tea. In poetry, Leopoldine Core, Leigh Stein, J. Hope Stein, I just read Swallower by Lyric Hunter and it's amazing. It's great to love YA, we all love YA, but you don't have to love YA to submit to Cicada. Most of our comic artists right now aren't "YA" comic artists; they're artists who have something to say that will be exciting or relevant or deeply moving to teens and adults alike.

I really wish we got more poetry, because to judge from The Slam, our teens love poetry! I especially would love to see more angry poems and stories--we get very wonderful thoughtful stuff, but I think teens and especially teen girls forget to let themselves investigate how powerful anger is.

Do you have any specific advice for writers who want to submit?

Think hard and feel deeply and absolutely take risks"
-- Anna Neher, Associate Editor, Cicada


Take risks. Read Cicada. Read a lot! Look for weird stuff--read zines and alternate comics and funky bloggers. Absolutely love whatever you love--if you still want to write sonnets and pantoums, there's still room in the world for sonnets and pantoums! If you're deeply passionate about The Vampire Diaries, write the most insightful and critical and enthusiastic Vampire Diaries fan poetry ever. Think hard and feel deeply and absolutely take risks, there's room in the world for your dark weird truths!
---