Which characters would you like to befriend? Today's Friday Five features the five favorite friend-characters of writer
Alice Kaltman
.
---
I was thrilled when Yvonne asked me to contribute a Friday Five. After all, this blog is a treasure trove of useful information. So, really, what could I offer? I hope you'll enjoy the direction I've taken. Useful information? Well, I dunno. But herein you'll find Five Characters from Five Books I'd like to hang out with. My choices represent a range of ages and fictional genres. I hope you think they're as cool as I do. And if you've got some fictional homies of your own, please share their contact info. I'm always looking to expand my imaginary friend network. --Alice Kaltman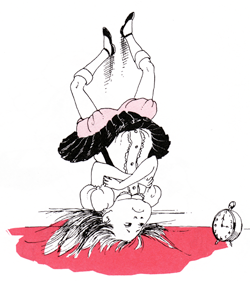 1) Favorite friend-character from a picture book: Eloise, from all the Eloise books written by Kay Thompson and illustrated by Hilary Knight.
Does it get any more mayhem-fabulous than life with Eloise? How cool would it be to 'skibble' down the elegant halls of the Plaza hotel? To be cared for by Nanny, the epitome of patience and open-mindedness? To have loyal buddies like cat-dog Weenie and raisin-eating turtle Skiperdee? To call Room Service? Eloise is the reigning princess of literary rapscallions (gosh, I love using that word). She's the kind of kid I wished I could've been when younger; running amok, letting her creative efforts blossom, raising bloody hell. When I was a young girl I was a bit too much of a goody-good to wreak that level of havoc. Still I did have a mischievous streak and energy to burn. Eloise and me as a pair? Oh boy, the damage we could do…
2) Favorite friend-character from a middle grade novel: Gregory K. From The 14 Fibs of Gregory K. by Greg Pincus.
Gregory K. And I have a lot in common. We both (think) we suck at math. We both have older siblings who are math savants. We both love to write. We both love pie, the kind you eat, not the all-mighty numeral that only has two letters: pi. I'd like to hang out with Gregory because by the time he's in 6th grade he discovers there are unconventional ways to be good at math. I sure wish that had happened to me back in the day. So what if Gregory's relationship to math has little to do with calculations, and everything to do with intuition and passion? Gregory K. forges a truce with math using a mighty dose of middle school aplomb. Talk about creative solutions. He's pretty damn smart and resourceful for a math resistor. I find Gregory K. downright inspirational. Plus he writes wicked good poems!

3) Favorite friend-character from a young adult novel: Nerissa Marin from Waterfell by Amalie Howard.

How awesome would it be to share waves at one of my favorite surf breaks with this unusual YA heroine? Granted, Nerissa has quite the advantage, given she's really a powerful underwater creature hiding an imposing form in a near perfect teenage body. Nerissa's ocean savvy allows her to surf like a seasoned pro. Next to her I'd probably look like a 'kook', surf lingo for clueless beginner. But since Nerissa is true nobility, a princess awaiting the day she can reclaim her royal birthright, I bet she'd graciously share waves. She'd probably cheer me on. And since Nerissa has some understandable problems adjusting to teenage life on land, I could help her make sense of the unpredictable snarkfest also known as High School. Hey, some day we could even take a trip to Waterfell, Nerissa's long lost underwater kingdom. I could meet her loyal subjects. Maybe we could have some kind of underwater dance party. After all, what are friends for?
4) Favorite friend-character from a new adult novel: Bridget Jones from Bridget Jones' Diary.

Okay, as a thirty-something she doesn't technically qualify as a New Adult. Still, Bridget shares a lot of attributes and foibles with some in that newly minted age bracket. She's impulsive. She parties a bit too much. She's incredibly insecure. She's stubborn. But she's also a loyal friend and a pretty good daughter. Plus she's hysterically funny. As her slightly more sensible confidant, I believe I could help Bridget avoid a number of snafus. That regrettable Christmas jumper, for starters. But if I'm being really honest, here's my main motivation: In the movie version she gets to choose between Hugh Grant and Colin Firth. I mean, hello? I'd like to be the loyal friend helping her around that conundrum. And happily picking off her sloppy seconds.
5) Favorite friend-character from an adult novel: Mr. Penumbra from Mr. Penumbra's 24 Hour Bookstore.
First off, look at the name of the book Mr. Penumbra lives in. He operates a bookstore that never closes. So what if most of the books are written in a mysterious code and on shelves that stretch precariously high? It's still a bookstore that's open all day and all night. For a reader/writer/bookstore lover like me that's as close to heaven as it gets. Mr. Penumbra is the quintessential lovable old dude. He's a gentle, savvy mentor to Clay Jannon, the book's floundering main character. Mr. P's the perfect blend of absent minded professor, brilliant scholar, and favorite great-uncle. I'd love to sit at his feet, a warming fire ablaze in the fireplace. Mr. P can relax in a well-worn leather recliner and tells me tales from his colorful past. And not just his quirky book-related past. I want to know about Mr. Penumbra's love life too. Seems this adventurous senior citizen might have some saucy tales in his Romance Section as well.
---
Alice Kaltman is a surfer, swimmer, and dancer. She's also a former triathlete and personal trainer, but hey, there's only so much time in a day. On the odd occasion when she can sit still, Alice writes short stories for grownups and novels for kids. For more about Alice, check out
her website
, follow her on
Twitter,
and catch her random musings on
Tumblr
.
---
Thank you, Alice, for the guest post!
If anyone wants to share their favorite friend-characters, please leave a comment.