This Teen Tuesday features an interview with Phil Jaeger, Publisher and Creative Director of Stone Crowns. Stone Crowns is a digital YA literary magazine started in 2013 and published quarterly. They welcome writing and illustrations from teens but ask that those under the age of 18 mention it in the cover letter since they must have a parent or guardian's consent before publishing. The deadline for the next issue is in April, so get busy!
---
What was the inspiration for starting Stone Crowns last year?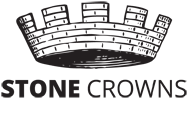 Stone Crowns has been a concept we've tossed around for quite some time. As artists ourselves we share a passion for young adult literature and have always wanted to be more involved in the growth of the genre. Knowing that publishing YA literature wasn't a new concept we've spent a lot of time crafting our goals. We're happy with the outcome so far, but more excited about the ideas we haven't yet shared.

What sets Stone Crowns apart from other YA literary magazines?

In tweets and blog posts it's not uncommon for us to refer to the writers and artist we're including, or have included, in an issue as "family." We say this because we are a family, a husband, a wife and a brother. There is a certain bond we share through Stone Crowns that has brought us even closer, and it feels good. Each issue is an opportunity for us to build upon, and share, this bond by growing our creative family through new writers, illustrators and our readers. We welcome all.

What is the most common mistake or flaw that you've seen in submissions so far?

Short fiction is difficult. Fitting a story into a few thousand words isn't an easy task. That being said, we've had an number of pieces come to us that read like the first chapter in a novel, instead of a complete story.

Do you have any specific advice for writers who want to submit?

| | |
| --- | --- |
| You caught us at a time when we've just sent out rejection letters. It's not something we look forward to and we're definitely not ringing our hands, laughing and wearing costume horns while doing it. Sometimes a piece just isn't right for an issue or a good fit for a specific publication. Keep plucking away and sending out submissions. We're excited to let you know that two writers under the age of 18 will have works published in our next issue. | We're excited to let you know that two writers under the age of 18 will have works published in our next issue." -- Phil Jaeger |