Today's Teen Tuesday features an interview with Stephanie Morrill and Jill Williamson who run the
Go Teen Writers
website. Stephanie founded the site in 2010 and Jill joined her about eighteen months ago.
What inspired you to start Go Teen Writers?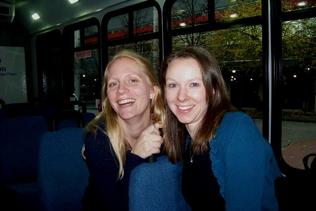 Jill Williamson and Stephanie Morrill
Stephanie: Because my fiction is for teen girls, many of the readers who contacted me about enjoying my books shared that they enjoyed writing. They wanted to know what advice I had for teen writers. When I was a teen writer, I didn't know a single person who could help me figure out next steps I should take, so I became really excited about creating a place where teen writers could learn and be encouraged.
What are the main benefits that Go Teen Writers provides?
Jill: We provide a consistent environment where teens can learn and ask questions. We post consistently, hold a variety of contests, and have guest bloggers who are professional authors, editors, or literary agents. We also provide a community for teens to meet other writers and form support and critique groups.
Do you have any advice on what *not* to do as a teen writer?
Jill: Try not to surge ahead recklessly. Fight for patience. Too many young authors convince themselves the self-publishing is the best way to go. They self-publish before they've learned the craft of writing and storytelling. And then they become frustrated when their books don't succeed. Learning to write is hard work. Think of it as putting yourself through college. Set your mind on four years of hard work and writing at least a million words. That could be ten 100,000-word books or ten complete rewrites of the same book. But writing is very hard work and too many teens declare themselves ready long before they really are.