Stephanie Faris is celebrating the release of two new novels, and today she's sharing some of the writing wisdom she's gained through the years. To celebrate her books, she's also offering a giveaway. (See below.)
What I Wish I'd Known When I First Started Writing ​by Stephanie Faris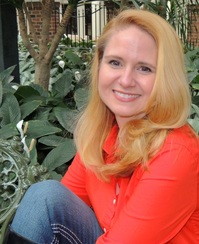 "Youth is wasted on the young." I heard that saying for the first time in It's a Wonderful Life. I was young at the time and even then, I thought how nice it would be to have all the wisdom old people have as a teen. In your younger years, you have your entire life ahead of you. You make choices that will determine the rest of your life without the experience you need to make those decisions.

When I decided to write my first novel, I was in my early 20s. I'd been through journalism school, interned at a TV station, and worked a year or two in public relations. I knew fully well that I lacked the experience necessary to write a best-selling novel, but I still had those stars in my eyes. What if I was one of those wunderkind stories that make big news?

I wrote three young adult novels before I even began researching what to do with a book once you've written it. I knew you sent it to a publisher, but what publisher? How did you know the address and editor name? There was no such thing as Google back then, so I hit the "how to write" section of my bookstore and started reading everything I could find.

I'll never forget reading the words that there was not currently a market for young adult novels. I read up on book packagers, which was the only real option for young adult novelists in the 90s. I had no idea so many popular young adult series were ghostwritten, but I dove in. I auditioned to write for Sweet Valley High TWICE and failed both times. I quickly decided I simply couldn't write young adult, since the market was pretty much nonexistent in the 90s.

So I gravitated toward romance. And that was where I made another big mistake. I wrote my first manuscript and, sure it was brilliant, I put it in the mail to an editor. Luckily she simply sent a form rejection--one of many I'd received over the years. It was only THEN that I decided to seek out a writer's group. And then the real learning began.

If I could speak to my twenty-something self, I would tell her to read and research before writing that first manuscript. No writing is wasted--it's all practice that helps us get better. I just would have gotten much further, much faster, had I known more about the market before I wrote "The End" on my first book.
​
If you're a pre-published author, that would be my biggest advice. Read, meet other writers, and grow. Consider your career and build your support system before you write 100,000 words, only to realize you've done all of that work for nothing. But I can say that even knowing that now, I don't regret all of that hard work, especially since Harry Potter came along and changed everything. I've now come full circle. I started my career writing for young readers and that's what I'm doing now. And I've loved every minute of it!
More about Stephanie's books
When Piper Morgan has to move to a new town, she is sad to leave behind her friends, but excited for a new adventure. She is determined to have fun, be brave and find new friends.
​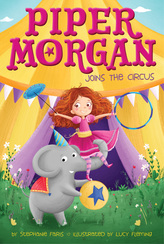 In Piper Morgan Joins the Circus, Piper learns her mom's new job will be with the Big Top Circus. She can't wait to learn all about life under the big top, see all the cool animals, and meet the Little Explorers, the other kids who travel with the show. She's even more excited to learn that she gets to be a part of the Little Explorers and help them end each show with a routine to get the audience on their feet and dancing along!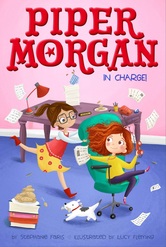 In Piper Morgan in Charge, Piper's mom takes a job in the local elementary school principal's office. Piper is excited for a new school and new friends--and is thrilled when she is made an "office helper." But there is one girl who seems determined to prove she is a better helper--and she just so happens to be the principal's daughter. Can Piper figure out how to handle being the new girl in town once more?
More about Stephanie
​Stephanie Faris knew she wanted to be an author from a very young age. In fact, her mother often told her to stop reading so much and go outside and play with the other kids. After graduating from Middle Tennessee State University with a Bachelor of Science in broadcast journalism, she somehow found herself working in information technology. But she never stopped writing.
Stephanie is the Simon & Schuster author of 30 Days of No Gossip and 25 Roses. When she isn't crafting fiction, she writes for a variety of online websites on the topics of business, technology, and her favorite subject of all--fashion. She lives in Nashville with her husband, a sales executive.
​
​