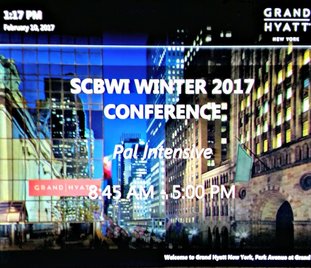 Connection within the kidlit community and beyond
. In his talk about Grassroots Marketing, children's librarian
Matthew Winner
provided some helpful ideas for participating in the book community online, including using twitter chat hashtags, commenting on blogs, skyping with libraries, and writing unique guest posts. Author
Andrea Beaty
talked about getting outside of the "kidlit bubble" and how she reached out to scientists while marketing her picture book.
Career-building for writers.
Cynthia Leitich Smith
offered wisdom and advice around the concept of a creative career. She differentiated between acting as the author/ambassador of your work versus the creative writer, and stressed that you need to protect your writing time. Another bit of helpful advice that she gave (besides "don't drink and tweet"!) is to focus on what you can control (craft, productivity) instead of what is out of your control (sales, awards).
Creativity and the importance of working on the next book.
This came up during agent
Marcia Wernick's
talk and again in Cynthia's.
Andrea also spoke about balancing time, money, and energy and how she outsourced certain tasks (like researching online "influencers" and their contact info) so that she could focus her time on other things.
Author
Erica Perl
mentioned saying no to say yes, because that "no" allows time and opportunities for other pursuits (like writing!). Maybe this caught my attention because I'm currently trying to balance marketing and writing, but it was affirming to hear "do the writing!" message multiple ways.
---
Do you consciously protect your time for writing or other important pursuits? Do you have any tricks to saying "no" to optional activities?