Happy National Short Story Month! It is especially fitting that during this month, my coauthors and I get to celebrate the release of the Hero Lost Anthology.
Mysteries of Death and Life
came together through an IWSG contest and includes my short story, "The Art of Remaining Bitter." You can learn more about all twelve stories on the
Hero Lost website
. Congratulations to my fellow anthologists,
Jen Chandler,
L. Nahay,
Renee Cheung,
Roland Yeomans,
Elizabeth Seckman,
Olga Godim,
Ellen Jacobson,
Sean McLachlan,
Erika Beebe,
Tyrean Martinson,
and
Sarah Foster
, with special thanks to
IWSG
and
Dancing Lemur Press
.
You can find this fantasy anthology on
Amazon,
Barnes and Noble,
Books-A-Million,
Nook,
iTunes,
Kobo,
Amazon UK,
Amazon CA,
and
Goodreads
I researched emerging infectious diseases as well as historical pandemics in order to write
Pandemic,
my debut young novel.
Pandemic
doesn't take place in the distant future; it's about what it would be like to survive a deadly contagious illness tomorrow. To make it realistic, I read nonfiction books like David Quammen's
Spillover
, interviewed a local county public health officer to understand the possible ramifications of a deadly outbreak on a small town, and researched the swine flu pandemic that occurred in 2009-2010. I also found the New Jersey (where the novel is set) Pandemic Influenza Response Plan online here:
www.nj.gov/health/flu/documents/splan/combined%20pdf/toc_res.pdf
. (Be warned: It's not light reading.) Although the blue flu in
Pandemic
is a fictional disease, I modeled it after the Spanish Flu of 1918 (like the fact that it primarily affects mostly healthy people, not infants and senior citizens).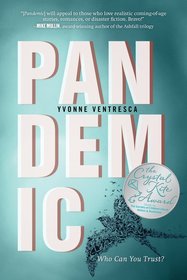 Here are some facts I learned from my research:

1. The first cases of the 2009 Swine Flu/H1N1 pandemic occurred in Mexico, California, and Texas. Most countries in the world have since experienced infections.
2. Because of airplane travel, germs can be transmitted almost anywhere in the world within 48 hours.
3. Waterfowl are carriers of all influenza viruses. The World Health Organization (WHO) calls them "natural reservoirs."
4. The Spanish Influenza of 1918 killed more Americans than all of World War I.
5. Too much research can cause worry! This was an emotion I was able to transfer to Lilianna, the main character in Pandemic. And I definitely wash my hands more than the average person.
(For more answers to the question of the month,
Michelle Wallace
's blog features info about our
Mysteries of Death and Life
anthology story research.)
---
Do you ever worry that we'll experience another pandemic in our lifetime? Why or why not?