This week's Friday Five is a guest post from Beth Revis, author of the Across the Universe trilogy, as well as The Body Electric, Paper Hearts, and A World Without You (due out next summer). I often follow advice from other writers, and I love Beth's five bits of wisdom.
Five Bits of Advice for Writers by an Author Ready to Stab Her Book
Guest post by Beth Revis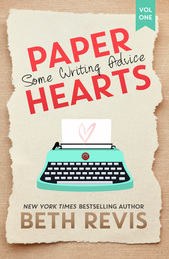 I'm just wrapping up the last round of edits for my newest book,
A World Without You
, which is coming out next July. Meanwhile, I'm also preparing to launch my first nonfiction,
Paper Hearts: Some Writing Advice
, which will be out November 1. With all these projects in the air, I'm pretty sick of editing and ready for these books to be done. So here's my advice for writers before they get to that stabby stage.
1. Get a "touchstone." It could be a favorite scene or line or image in the story. It could be a physical object, such as a quote or photograph or item that inspired you. But have a thing that can be your touchstone for your book, something that will remind you of the reason you wrote it. Because by the time you finish edits, you'll likely lose sight of it and will need a reminder.

2. Remember that the only thing you control about a book is the words inside it. Don't get too hung up on the cover, cover copy, buzz, or any other thing. You only get the story. Focus on that.

3. Don't be afraid to try new things. Sometimes we define our selves in certain ways that limit us. I used to proudly boast that I never outlined, and that made me reluctant to try an outline when I needed one. Don't sell yourself short by a narrow definition.

4. Not working is working. When you find yourself just frustrated and stuck and ragey and stabby, step back. Give yourself a break. You can't work when you're burnt out.

5. Remind yourself that it's worth it. By the time I finish edits, I'm ready to slaughter all characters and burn the world to the ground. I'm so done. But it's worth it. It really, really is.
More about Paper Hearts: Some Writing Advice
Your enemy is the blank page. When it comes to writing, there's no wrong way to get words on paper. But it's not always easy to make the ink flow. Paper Hearts: Some Writing Advice won't make writing any simpler, but it may help spark your imagination and get your hands back on the keyboard.

Practical Advice Meets Real Experience
With information that takes you from common mistakes in grammar to detailed charts on story structure, Paper Hearts describes: How to Develop Character, Plot, and World, What Common Advice You Should Ignore, What Advice Actually Helps, How to Develop a Novel, The Basics of Grammar, Style, and Tone, Four Practical Methods of Charting Story Structure, How to Get Critiques and Revise Your Novel, How to Deal with Failure, and much more!

BONUS! More than 25 "What to do if" scenarios to help writers navigate problems in writing from a New York Times Bestselling author who's written more than 2 million words of fiction.

More about author Beth Revis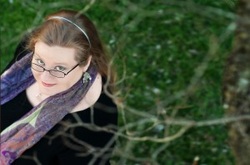 Beth Revis is the
New York Times
bestselling author of the Across the Universe trilogy, as well as
The Body Electric
,
Paper Hearts
, and the forthcoming
A World Without You.
She lives in the Appalachian mountains with her boys: one husband, one son, and two very large dogs.
You can find out more on
Facebook
,
Twitter
, or
online
. If you never want to miss a thing and also get exclusive insider opportunities,
sign up for her newsletter here.
---
Thank you, Beth, for the thoughtful post!
I find the burn-out advice to be true for many activities and now I'm in search of a touchstone for my work-in-progress. Readers, did any particular bits of this resonate with you?