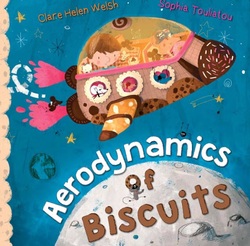 Congratulations to author Clare Helen Welsh on her picture book debut,
Aerodynamics of Biscuits
, which is available this month! For this week's Friday Five, Clare shares some writing advice.
Write the book you want to read.
I've heard people say 'write the book you want to read,' but in my case, it was 'write the book you want your children to read'. That's both my own children and the children I teach at school. I like my fiction full to the brim with excitement and adventure, leaving you reliving the plot long after the last page has turned. The Tiger that Came to Tea, by Judith Kerr is a great example of this. Also all the Oliver Jeffers' stories, but especially Stuck. In my opinion, there aren't enough books that engage young readers, especially boys, like this. Clarifying what it is you like in a book can give you aim, direction and purpose in your own writing.

Read the books you want to write.
I was given the advice quite early on to spend time in the library researching common trends and themes, but to be honest, with ten years' teaching experience and young children of my own, I thought I had quite a good handle on the market. Now I spend as much time as I can reading; at school, at home and in the library. Sometimes three or four hours at a time; researching characters, analysing plots and unpicking endings. Examining the mechanics of someone else's writing can help to improve your own. When I was writing Aerodynamics of Biscuits, I spent many an hour researching page turners to help keep readers' attention and pace.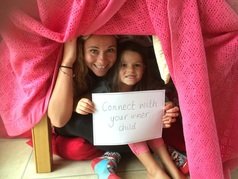 Connect with your inner child.
Standing out to a prospective agent or publisher is tough. Very, VERY tough. If you get feedback that your submissions are 'too quiet,' which I take to mean forgettable, or to simply give your manuscript the best chance of standing out in the slushpile, make sure your idea sparkles and glistens and screams 'but I'm so much better than the rest!' At the SCBWI-BI Picture Book Retreat, author-illustrator Alexis Deacon suggested using snippets, anecdotes and tales from our childhood to create new and exciting submissions that are less generic and haven't been seen by the industry many, many times before. And if you didn't have a particularly inspiring childhood, ask your friends about theirs…. one of them is bound to have the perfect story to tell.

Make the most of every opportunity that comes your way.
Join a writing group, network with others, engage in a critique group, volunteer at events, enter competitions, apply for scholarships, attend conferences and spend time with children! If you really want to make a career out of writing, grab as many opportunities as you can to help you advance and make headway.
And finally…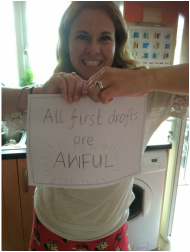 First drafts are meant to be awful!
Ok, so maybe there are some exceptions! But for the most of us, writing is blood, sweat, tears, frustration and persistent, hard work…oh and editing! Take it from someone who came to writing later in life and so suffers self-doubt as far as writing talent goes; if you have a kernel of an idea that shows promise, re-read it, edit it and polish it until it's the best it can be. I promise you'll be surprised what you can achieve.

It won't be quick.
It won't be easy.
It won't always be fun
…but it will definitely be worth it!
---
More about Clare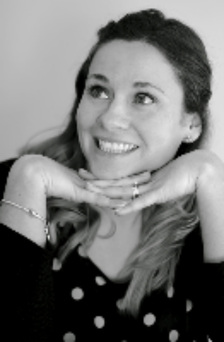 Clare
lives in Devon, England with her husband and two children. She teaches in a primary school and has over ten years experience in Early Years and Key Stage One. In 2014 she became a Specialist leader of Education, supporting local schools to achieve high standards in phonics, primary languages and the Early Years Foundation Stage.
In 2013, Clare won
The Margaret Carey Scholarship
for Picture Book Writers and she received Silver Medal at
The Greenhouse Funny Prize
2014 for her picture book,
Aerodynamics of Biscuits,
which is due to be published by
Maverick Arts Publishing
in September 2015. Clare is represented by Alice Williams of
David Higham Associates
.