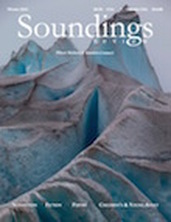 This week's blog post is a combination of Teen Tuesday and my usual Friday Five. I'm pleased to share an interview with Martha Schoemaker, the Children's and Young Adult Editor of Soundings Review. Published by the Northwestern Institute of Literary Arts,
Soundings Review
magazine is a paying market ($25 per prose piece); submissions require a $3 fee through Submittable. The current reading period (fall) runs from September 1 to December 1.
What makes Soundings Review different from other magazines?

Soundings Review is a magazine of creative writing. In addition to publishing poetry, fiction, and non-fiction for adults, we also publish writing for children and young adults. While we recognize that children probably don't read our magazine, we hope to serve as a showcase for the best writing we can find for ages eight through eighteen. We're also open to submissions for younger readers, but we rarely get them.

Just to confirm--you accept submissions from teens and adults?

Yes. The age of the author isn't a consideration. In fact, most of the editors at Soundings Review read the submission before we read the cover letter, and we usually have no idea of the age of our authors. We prefer to judge the work on its own merits before we look at a writer's publication history and credentials.

What specific advice would you give to teen writers who would like to be published in Soundings Review?
Before you submit, ask yourself if it's the best work you can do. If the answer is yes, send it to us accompanied by a simple cover letter that includes the title and description of the piece you are submitting along with a short bio of yourself. You can find many examples online. If you have a publication history, please include it, but it can be quite rewarding to publish debut authors if the work is excellent. It's all about the quality of the work and the personal taste of the editors. The submission guidelines are available here.
What is the most common mistake or flaw that you see in submissions?

Several issues will take the work out of consideration for Soundings Review.

1) The piece is written for teens but from an adult perspective. I recently rejected a fine piece of writing that was about a teenager but written from the point of view of an adult. That is not young adult writing.

2) The quality simply isn't there. Take the time to hone your craft. Proofread more than once, and get someone else to take a look at it. It can be difficult to edit your own work.

3) Illustrations. It costs lots of money to include illustrations, especially in color. Our budget usually won't cover that.

4) The author talks down to children by being overly cute or clever, especially with picture books. In my opinion, picture books and books for the very young are the most difficult genres to write. Don't even try it until you've read at least 200 quality picture books. Go to your local bookstore or talk to a librarian to get ideas.

Anything else you'd like to add?
Read widely in your chosen genre or genres. I've gotten a few middle grade and young adult submissions from people who don't seem to have read much in those genres. Ask yourself what you loved to read as a child. Reread some of those books and stories, and find new ones you can love just as much.

Is your goal to sell your writing? There's nothing wrong with that! Study the market, but write what you love. Your passion will show in your writing.

Good writers become better writers by reading craft books, by taking workshops and classes and working with other writers, and by writing as much as possible.

Write well!

---
Thank you, Martha, for your advice about writing and Soundings Review.
Writing friends--how do you find new markets to submit your work to?