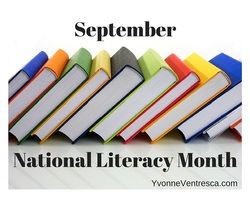 September is National Literacy Month! To celebrate, I've interviewed Cathy Leiber, President and Co-Founder of
Judith's Reading Room
. For this week's Friday Five, Cathy provides five ideas about what individuals can do to support literacy.
Five Ways to Support Literacy by Cathy Leiber


Encourage everyone you know with children under the age of 5 to donate their very gently read, but no longer necessary, baby books to their local WIC (Women, Infants, Children) office. WIC offices serve low income families, most of whom probably don't have books in the home.

Buy books at an independent book store or chain book store for gifts or for yourself. Then donate the book to your local AAUW chapter (American Association of University Women) for their annual book sale, proceeds of which go to scholarships for girls!

If you don't have a library card, go to your local library and get one! Take a child with you and get a card for them, too. Support your local library book sale.

Volunteer anywhere and everywhere to read books aloud to children. Reading aloud to children under the age of 5 is the key to early literacy.
More About Judith's Reading Room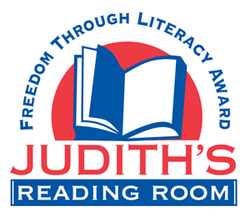 When I asked Cathy about what was most rewarding about co-founding
Judith's Reading Room,
she said, "In the five years since we started Judith's Reading Room in our family room, we have established 93 libraries in 16 countries. Nothing has been more rewarding than seeing the faces of children peering at the pages of book, many for the first time in their lives! What joy! What fascination!"
Based in eastern Pennsylvania, Judith's Reading Room actively supports not-for-profit organizations in the northeast region. However, they will serve communities across the United States, in particular, and around the world, in order to spark creativity and imagination by providing outstanding literature. Judith's Reading Room's mission is to enrich lives and societies by proactively encouraging freedom through literacy.
---
Thank you for the suggestions, Cathy. Readers, do you have a library card? Do you use any of these methods to support literacy, or do you have other suggestions?