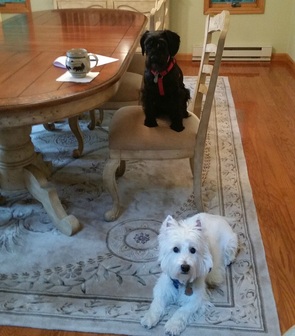 It's August, the dog days of summer. Do you get more more or less done during this season?

Writers -- in case you're inspired to enter an upcoming contest, here are several choices for this week's Friday Five.
Figment Short Story Contest
Figment is currently running a short story contest. (Writers must be at least 13 to enter.) "In 816 words or fewer, write a story where your main character does anything to be popular." Deadline is Sunday, August 16th, so you have nine days! You can read the complete guidelines at the
Figment website
.
Patriot's Pen Essay Contest
This essay contest (for US students in grades 6-8) "encourages young minds to examine America's history, along with their own experiences in modern American society, by drafting a 300- to 400-word essay, expressing their views based on a patriotic theme." The 2015-2016 theme is What Freedom Means to Me. Read last year's winning essay and check the complete rules at the
Patriot's Pen website.
Cash prizes are awarded at the state and national level. Deadline is November 1st. (NOTE: Students will need to ask a teacher or youth group/club adult leader to supervise the Patriot's Pen writing competition for their area.)
Writers and Illustrators of the Future
For writers of all ages: L. Ron Hubbard's Writers of the Future Contest for "new and amateur writers." Submit short stories up to 17,000 words; "all types of science fiction, fantasy and dark fantasy are welcome." Cash prizes of $1000, $750, and $500 are awarded quarterly. The current quarter ends September 30. "The Contest is open only to those who have not professionally published a novel or short novel, or more than one novelette, or more than three short stories, in any medium." Read the full details at the
Writers of the Future website
. There is also a related contest for illustrators -- check
here
for more information.
Summer of Screenwriting Contest
For aspiring screenwriters ages 18 and younger in the US, the deadline to submit a twenty page (or less) screenplay is August 31st. Complete rules are at the
Fountain of Youth Productions website
.
Real Simple Essay Contest
This year's Real Simple essay contest theme is "What single decision changed your life?" Essays of 1500 words or less are due September 21st. Open to US writers ages 19 and up. First prize is $3000. Read previous winning essays and complete guidelines for the Eighth Annual Life Lessons Essay Contest
here
.
Bonus Links
Heather Ayris Burnell has collected additional upcoming contest links on the
Sub It Club blog
.
Happy August!