I love survival and disaster fiction. When I was writing Pandemic, one element I wanted to incorporate was a main character who was emotionally damaged before the disaster strikes. It would be hard enough to survive crazy times. What if you had trouble trusting people? What if you were obsessively hoarding canned goods to feel prepared and then realized it wasn't enough? I liked the challenge of putting my main character, Lilianna, in that situation and having her grow stronger for it.

Here's a bit more info about Lilianna, and another important character, Jay Martinez.

Meet Lilianna Snyder
Age: Sixteen. Sophomore at Portico High School in NJ.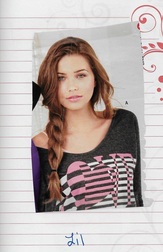 Style: She'll tell you it's "Lazy Goth" and only be half-joking. It's a big change from the floral skirts she wore six months ago.

(I had a hard time coming up with an actress look-alike for Lil, but I cut this photo out of a clothing catalog and pasted it into my Pandemic notebook. Imagine a more goth version of this model.)
Obsession: Staying safe. She follows news alerts on anything potentially dangerous and stockpiles emergency supplies, but that won't be enough.

BFF: Megs Salerno. She's smart and loyal. In truth or dare, a definite dare girl.

Secret: Lil won't talk about it with anyone except Megs.

Her neighbor: Jay, the new boy in town with a secret of his own.

Meet Jay Martinez
Description: Tall, dark and lanky. Brown eyes, brown hair. His actor look-alike would be Alex Bechet. He's sixteen and a newly transferred student to Portico High School in New Jersey.

Obsession: Keeping his younger brother, Tyler, safe from the flu and other dangers.

Secret: When Jay moved from Phoenix, he purposely left his past behind.

The Disease: H5N1, or as the media calls it, The Blue Flu. It's deadly, it's spreading rapidly, and it doesn't care about anyone's secrets.

Want a better visual of Jay? See Alex Bechet in Demi Lovato's
video
for "Give Your Heart A Break" below. Imagine him without the hat in the opening sequence. (Jay doesn't like hats.)
---
Do you enjoy this kind of behind-the-scenes info? I'm hoping to share these kinds of details and other goodies in my soon-to-be-launched monthly author newsletter. You can sign up
here
.
---
Writer friends, do you use actors or photos to envision your characters?
Reader friends, let me know if you've read any good books lately with interesting main characters. Please share in the comments below.