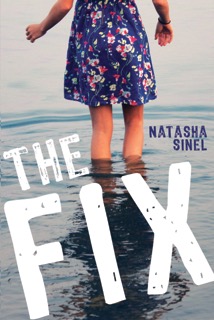 In this masterful debut, Natasha Sinel explores how a shocking act of betrayal can be overlooked within an otherwise loving family. A vivid storyteller, Sinel tackles an emotional topic, portraying the pain and repercussions of Macy's experience with an honest sensitivity.

The Fix is officially launching September 1st, but is already available for purchase. I'm thrilled to share a Q&A with Natasha as this week's Friday Five.
What was your inspiration for writing The Fix?

I took one meaningful moment from my own high school experience--a girl and a guy have an intense conversation and then he disappears the next day--and then I built a new story from there. I knew that Macy, the main character, was angry, especially at her mom, and as I dug into her backstory, I discovered why. Ultimately, the reason for her anger and her struggle to come to terms with her past became what the book was about.

The Fix is your debut! Is it the first novel you've written?

My first manuscript got representation after only about eight queries, so I was feeling pretty confident when it went on submission to editors in 2010! But that book wasn't acquired, so I wrote another manuscript (The Fix), which was acquired in 2014. So, while I didn't get a huge number of rejections from agents, the editors more than made up for that!

The Fix covers some difficult topics. Did you ever find yourself censoring scenes that you wanted to portray?

Great question. Yes! There is a flashback scene that I went back and forth about. It was a tough scene to write, and I know that it may be uncomfortable to read. I re-wrote it at one point to make it milder, to take the flashback more "off the page." And then Carrie Mesrobian, an author whose work I respect so much, read the manuscript and encouraged me to return to the scene as I'd written it originally--it was too important to tone down. She was so right, and I'm so thankful to her for persuading me to fight to keep the scene (turns out, I didn't need to, as my editor agreed).

What's the most frustrating part of writing for you?
First drafting is really hard for me. It's when you have to get real about this perfect new idea you've been dreaming of. Turning an idea into a 300 page novel is one of the most difficult things I've ever done. When the drafting starts to get hard, I get tempted by new ideas or I begin to think that I should go back and re-do what I've already written. But the reality is, I could keep doing that forever. The key is to finish the first draft, and then go back to the beginning. And when I get tempted by the new ideas, I write them down in a notebook and move on.

What have you learned about writing over time that you wish you knew earlier? And what advice would you give to other writers?

The writing and the publishing of the writing are two very different things. I wish I'd learned earlier how to keep them more separate. I wish I'd spent more time writing and less time waiting, worrying, and obsessing over the publishing part. If I'd written consistently throughout querying, submission, debut year, I'd have several more books worth of words by now. Lesson learned and now I'm writing much more consistently. I have convinced myself recently that the writing comes first, and then the other stuff. So that's my advice. Figure out how to keep writing, even if it's for fifteen minutes every other day, because it's easy to lose sight of the reason most of us started writing in the first place--because we love to write and it makes us feel alive.

---
More about The Fix
One conversation is all it takes to break a world wide open.
Seventeen-year-old Macy Lyons has been through something no one should ever have to experience. And she's dealt with it entirely alone.
On the outside, she's got it pretty good. Her family's well-off, she's dating the cute boy next door, she has plenty of friends, and although she long ago wrote her mother off as a superficial gym rat, she's thankful to have allies in her loving, laid-back dad and her younger brother.
But a conversation with a boy at a party one night shakes Macy out of the carefully maintained complacency that has defined her life so far. The boy is Sebastian Ruiz, a recovering addict who recognizes that Macy is hardened by dark secrets. And as Macy falls for Sebastian, she realizes that, while revealing her secret could ruin her seemingly perfect family, keeping silent might just destroy her.
The Fix
follows two good-hearted teenagers coming to terms with the cards they were dealt. It's also about the fixes we rely on to cope with our most shameful secrets and the hope and fear that comes with meeting someone who challenges us to come clean.
Add
The Fix
to your to-read list on
Goodreads
.
Order
The Fix
on
Indiebound
,
Amazon
,
Barnes & Noble
.
More about Natasha Sinel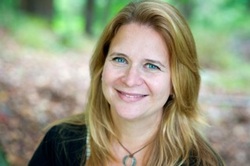 Natasha Sinel
writes YA fiction from her home on a dirt road in Northern Westchester, NY. She drives her kids around all afternoon but in her head, she's still in high school and hopes no one near her can read minds. You can find her on
Twitter
or
Facebook
.
The Fix
(Sky Pony Press, September 1, 2015) is her first novel.