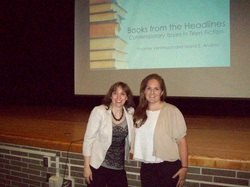 Last week,
Maria Andreu
and I did a joint author visit at Overbrook High School on "Books from the Headlines: Contemporary Issues in Teen Fiction." (Maria wrote
The Secret Side of Empty
, which I highly recommend.) We met with lots of students who had questions about the writing process. The book club group, in particular, had come technical questions about point of view, so I thought I'd pull together some resources.
Point of View
Here are some blog posts about POV that I recommend:
Contests
Looking for more Teen Tuesday blog posts?
For easy access to all of the Teen Tuesday blog posts, visit my
Resources for Teen Writers
Pinterest board, or select the "Teen Tuesday" category on the left of my blog.