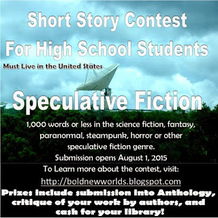 The deadline for the Bold New Worlds Short Story contest is November 1st. (Submissions open on August 1st.) Visit their
website for complete contest details
, but in general, stories should be 1000 words (or less) and science fiction, fantasy, paranormal, steampunk, or other types of speculative fiction.
Entrants must be high school students in the US.
Bold New Worlds is also holding a
logo design contest
with a deadline of August 1st. Both contests offer cash prizes.
Special thanks to blog visitor
Liz A.
for letting me know about this contest.