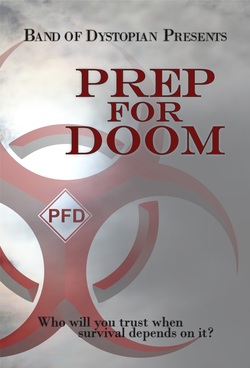 As the author of a YA novel about a deadly bird flu , I was excited about the opportunity to contribute a short story to a pandemic-related anthology. This collection,
Prep for Doom
, will be released on June 18th.
There's a brief interview about my story, "Escape to Orange Blossom," featured on the
Prep for Doom blog
today. It includes a video with a special guest appearance from one of my dogs, Luna.
Here's more about the
Prep for Doom
premise:
From the imaginations of twenty authors of dystopian and post-apocalyptic fiction comes PREP FOR DOOM - an integrated collection of short stories that tell the tale of a single catastrophe as experienced by many characters, some of whom will cross paths.What begins with a seemingly innocuous traffic accident soon spirals into a global pandemic. The release of Airborne Viral Hemorrhagic Fever upon New York City's unsuspecting populace brings bloody suffering within hours, death within a day, and spreads worldwide within a month.An online community called Prep For Doom has risen to the top of a recent doomsday preparation movement. Some have written them off as crazy while others couldn't be more serious about the safety the preppers could provide in a global disaster. But when AVHF strikes, their preparation may not be enough to save them.