Today's Friday Five is a guest post from Hilary Thompson, author of Justice Buried.
Justice Buried (Starbright, Book One): 5 Facts About the Cover by Hilary Thompson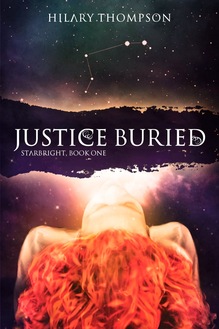 Justice Buried was my debut novel, and I was obsessed with finding and creating the perfect cover images. After all, I judge books by their covers, and I know lots of you do, too.


I'm on Tumblr and Pinterest a ton for inspiration, and one day I found this photo. It sparked the idea that became my cover, through the talented work of my cover designer, Najla Qamber.

The cover was truly an international collaboration. Najla lives in Bahrain, but she hired a photographer and model here in the US to re-create the look.

The model was actually naked, so Naj had to add the floaty-looking fabric on her shoulders! Digital magic at its best, folks.

The stars at the top are the constellation Aries, which is the main character's sign. In the Starbright series, the citizens of Asphodel use the zodiac to determine each aspect of their lives, from clothing colors and activities to jobs and partners! This is a problem for the main character, Astrea, whose particular birthday fulfilled a prophecy she wants no part of. She is supposedly the Starbright maiden of Justice, but the responsibility of dispensing Justice is not something she's ready to accept.

The title placement was designed to enhance the way the girl looks buried underneath something - she is symbolically separated from her stars, or her destiny, because she refuses to give up her free will.
---
About Hilary Thompson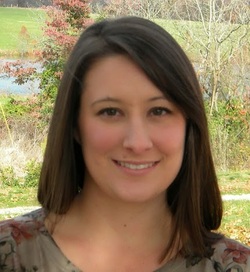 Hilary Thompson was born to parents who made a habit of taking roads less traveled. But she was also a Libra, a first child, and an independent, willful child, so she has made a habit of taking a few roads on her own.
After trying on hats made for artists, architects, restaurant and retail workers, landscape designers, legal secretaries, and professional students, she retreated back to her first loves of education and writing.
Hilary now teaches high school full time, writes whenever and wherever she can, and reads as much as her eyes can handle. She also tries not to spoil her own independent, willful children or neglect her wonderful soul-mate of a husband too much. She tends to ignore laundry baskets and dirty dishes.
Connect with Hilary:
Newsletter
,
Facebook
,
Goodreads
,
Website
,
Twitter
,
Pinterest
,
YouTube
---
More about Justice Buried:
The people need Justice, but she's not listening.

One hundred years before, the Great Sickness reduced the world to three cities. Now the community of Asphodel is trapped underground, waiting for the prophesied maiden of Justice to return and save them from their Fates.

Sixteen-year-old Astrea is supposed to be this savior - too bad for them she isn't a believer.

Trea fights against her false destiny: she rebels against her family and friends, then refuses her arranged marriage to the charming but deceitful Lexan.

Learning her life is in danger, Trea is forced to trust Lexan - until she discovers a power she never knew she had, and one he already knew he did.

As betrayal closes every door, Trea decides she must submit to her stars and accept her fate. Then a handsome stranger offers her an unexpected escape and the chance to create her own destiny.