Today's Friday Five is a guest post from author Brea Behn about her YA book cover. Thank you, Brea!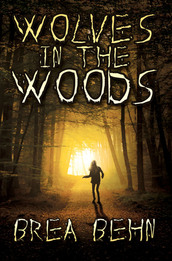 Wolves in the Woods: Five Facts About the Cover by
Brea Behn
1) Wolves in the Woods is based on a reoccurring dream I had that started with me running through a field and the woods. I knew what I wanted the cover to be long before I ever pursued publishing it.
2) I asked everyone who had read Wolves in the Woods before it was published what their idea of a cover would be. Almost all of them suggested Braelin running into the woods. I didn't tell them until the cover came out that I had the same idea.
3) The only thing I told my cover artist, Dave King, was that I wanted a young girl with long blonde hair running into the woods. He added the light off in the distance. Ironically this fits very symbolically with the story in that the "Big Woods of Wisconsin" end up being Braelin's safe haven. Her light in her dark tale of a dystopian future where a virus kills her entire family.
4) The title Wolves in the Woods comes from a symbol of safe versus not safe. The Wolves is the name of a gang. The woods is where she feels safe. When the gang invades both her woods and her safety Braelin will have to fight for her freedom.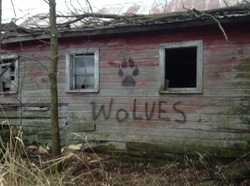 5) The font was not something I picked out. At first I thought it looked a bit childish. Then I realized, it sort of looks like graffiti. Which fit the story perfectly. The Wolves gang leave paw prints as their calling card. My brother and I actually created our own Wolves graffiti (with permission) on an abandoned farm.

Wolves in the Woods is a series. The second book, Wolves in the City will be coming out this summer. You can guess what that cover will be...

---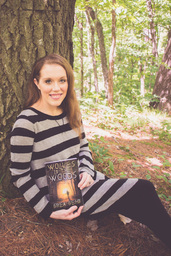 ---