YASIV
stands for "
Y
et
A
nother
S
imilar
I
tems
V
isualization" and this tool shows a graphic depiction of other books that customers bought on Amazon based on the title you enter. Here is
the result
for my young adult novel, Pandemic: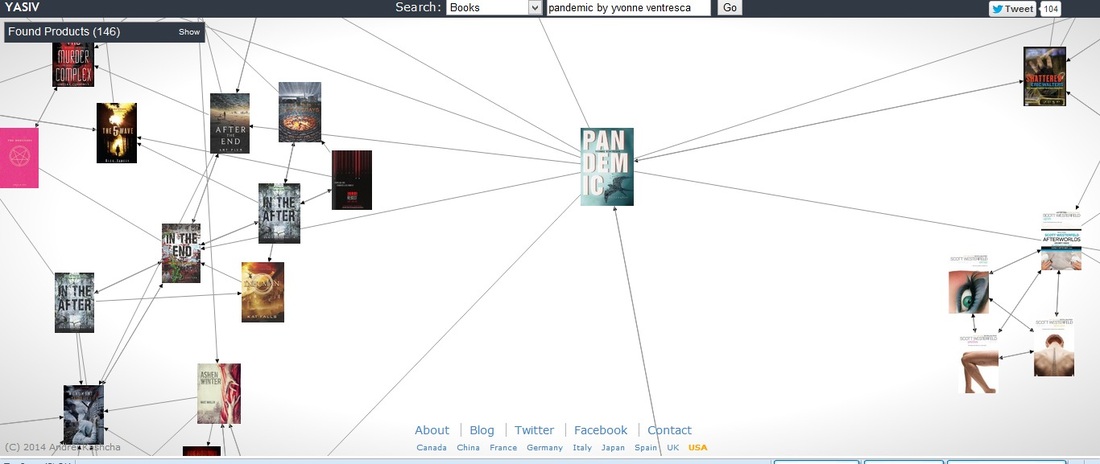 The visual gives you a quick sense of what the "also boughts" are by people that purchased Pandemic. By entering your favorite book, you can get a diagram of other book recommendations. It works on movies, games, and other items, too.
I thought this was fascinating, so I checked in with YASIV's creator, Andrei Kashcha to learn more. Andrei is a NY programmer, orginally from the Ukraine, and he developed YASIV as a hobby. He explains the tool this way: "When you search for a product on YASIV it goes to Amazon and finds it there. It also asks Amazon: What are customers buying with this product? When Amazon gives a reply, YASIV goes to Amazon again and asks it the same question for each found product." Other points of interest: shorter lines will connect the same books in a series and the product movement is random. You can view the results by popularity, price, sales rank, or diversity. The diversity option helps readers choose a book that is connected to but is the most different from the specified product.
There was a bit of synchronicity in Andrei's development of the program. He was originally worried that the programming languages he knew were becoming less popular. He researched another language using Amazon's "also bought" feature. Reading the book taught him a new programming language and inspired him to develop
YASIV
.
---
Thank you, Andrei, for providing the story behind
YASIV!
I'm sure both readers and writers will find it interesting.