Planning your time is everything…


The holidays can be a wonderful time but the presents, the decorations, a special dinner--none of these festivities come together without planning.

The same is true for writing a novel. While you don't need to completely plan the story, you do have to plan your time because it will never miraculously appear. "Oh, I have a few free hours today. Think I'll get some writing done." Ha. Even if this happens occasionally, it will never occur regularly enough to get you through 50,000 words plus revisions. Plan your time like you have an unmovable deadline.

…but you also have to be flexible.


Maybe Christmas dinner takes much longer to cook than expected. (This *always* happens to me.) You run out of clean forks. You forgot your sister-in-law hates chardonnay and there are two bottles chilling in the fridge.

Sometimes you need to improvise with your WIP. If the opening isn't working, try starting with chapter two. Maybe that scene in the cat shelter is just too boring, even though you visited the shelter twice and took numerous notes before writing it. Save the file under a different name, drink the leftover chardonnay, and try something new.

You don't always get what you ask for.


I won't mention names, but some people do not always buy you the book you *really* wanted even though you emailed the title, author, and link, and mentioned it several times over dinner. Ahem. But sometimes they give you an even better gift, like earbuds that actually stay in your ears when you go running. Or jewelry that sparkles.

With regards to writing, you may think you want to create a middle grade story. You outline said story. You spend lots of well-planned time writing it. And lo and behold, you develop a really interesting YA voice. What's a novelist to do? Accept the unwanted gift graciously. It may be what you didn't even know you needed.

Sometimes change is difficult but necessary.


When my children were young, we would drive around the neighborhood and gaze at the decorated houses the week before Christmas. Then, all too soon, the kids stopped enjoying it. It was hard to let the ritual go. Similarly, don't let tradition dictate your writing habits. If you usually write quietly at home, try a busy coffee shop or even take notes at the mall. If you edit with a red pen in hand, try purple. Experiment with third person POV instead of first. Change can be a good thing to jumpstart your creativity.

Remember the magic.


It's easy to be grumpy when your holiday to-do list spans two pages. The joy of the season gets lost in the mundane tasks. This can happen with writing, too. You're trying to reach a word count or revise a scene or replace the verb "walk" because you've used it eighteen times. Writing becomes drudgery. As with Christmas-related chores, the fun gets lost.

This December, make a conscious effort to recognize the "why" of the holidays and your writing. There's a deeper reason we celebrate (and create). Remember the magic, and keep the joy in the season and your writing.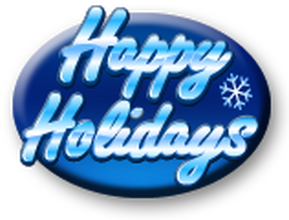 Happy Writing!