From your own name in the news to killer whale noises, this week's roundup of websites has you covered.

To keep up with a certain topic in the news or monitor when you (or your book) is mentioned online, try
Talkwalker
. This program allows you to set up multiple free alerts. The results are then emailed to you automatically. (Google Alerts works in the same way.)

Need article ideas? At
Any Day in History
, you select the day and the site displays notable births, deaths, and events that occurred on that date.
Earth Calendar
displays holiday celebrations around the world. You can view holidays for a specific year by country, or look at what celebrations are happening now.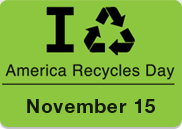 For example, today is America Recycles Day. Who knew? Both these sites could be helpful in sparking an idea for a writing project.


The US government's Bureau of Labor Statistics provides the
Occupational Outlook Handbook
online. If you need to decide on a character's career, this site can provide data on job responsibilities, work environment, pay, and necessary education. The "more information" link provides related associations for each profession, which could serve as a contact for interviews if more details are needed.

Do you have a question you can't find the answer to? If you're
really stumped, try
Ask an IPL2 Librarian
for help. The volunteers (professional librarians and library science graduate students) try to respond within a week.
Let me know if you find these resources helpful or if there are others you would recommend.