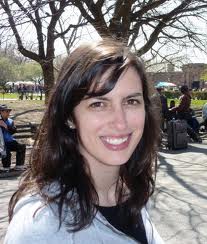 Julie Matysik
As part of UncommonYA's "Behind the Scenes in Publishing/One Thing That Sold My Book" series, I interviewed the editor who recently acquired my debut novel,
Pandemic
: Julie Matysik of Sky Pony Press.
Sky Pony Press is a relatively new children's imprint. Could you explain a bit about its background?
In 2010, Skyhorse Publishing acquired Arcade Publishing's assets, which included a very large backlist of literary fiction, nonfiction, and a handful of children's books. Our publisher and associate publisher decided it was time for Skyhorse to expand into children's books, which was a category we had not been publishing in. We had a few meetings and brought on a wonderful consultant for the first six months or so, and Sky Pony Press launched its first list in the fall of 2011. Since that first list, we now have about 100 titles in print, in all children's categories except early readers.
I originally contacted you about my YA novel, Pandemic, through an email query. Are you still accepting unsolicited queries? What else do writers need to know about Sky Pony's submission policy?
Yes, we do still accept unsolicited queries and probably will for the foreseeable future. While the majority of the projects I acquire for the list are agented, I do usually have between 1-3 books on each list that have come to me un-agented or through an email query. We've posted our submission guidelines on our
website
but what I typically look for in picture books is a completed manuscript (and illustration samples if those will be considered with the manuscript), an author bio/platform (what makes you the perfect person to write this book and/or what can you bring to the table as an author that will help us to sell the book more successfully, i.e., social media outreach, blogs, speaking engagements, etc.). If you are submitting a middle grade or YA novel, I prefer to have the entire manuscript to read as well as an author bio/platform, comparative titles that are already on the market (and how your book enhances these or is different from them), as well as who you believe the intended audience is.
The theme of this blog post is "One Thing That Sold My Book to a Publisher." Are there certain things in general that you look for when acquiring a YA novel? Could you explain what appealed to you about Pandemic?
When I'm acquiring a YA novel, I'm really looking for the voice of both the author (which is paramount) and how relatable the main character is—will readers be able to connect with this character on a real level, regardless if the book is fantasy, sci-fi, dystopian, contemporary, etc. While I tend to be drawn more to contemporary YA novels, I am not unwilling to consider other genres in this category. But I do want a character that I can see readers connecting with instantly and wanting to follow from start to finish—and possibly beyond.
What was instantly appealing about
Pandemic
is that in the first few sentences, I was invested in Lilianna and her world. It was a world I could understand and empathize with. Her fears and apprehensions and, frankly, courage were all things I had felt as a teenager, though certainly not under the same circumstances, thankfully. Also, the pacing in
Pandemic
keeps the book moving forward and this is also important to me when acquiring YA fiction. You don't want the action or the plot to lull for too long but rather keep the reader engaged and wanting more at every page turn and chapter ending.
I know you also acquire picture books. What types of those stories appeal to you?
My publisher and I both feel that picture books that convey a message, that inform children about the world in which they live, and that bring a little bit of humor to the whole family are key to making a successful and lasting picture book. So I seek to acquire books that do have important lessons to teach without being heavy handed or overly preachy. I also have a soft spot for the quirky and silly and so try to include a few books like that on each list (and if they have a message, all the better!).
Do you have any specific advice for unpublished YA authors?
I think the best advice I can give to unpublished YA authors is to find a writing critique group and/or a trusted writing partner and really dig through your manuscript to find that rough gem inside. And then polish it until it shines and you are feeling confident in sending it out to agents and/or editors. Don't give up if you get rejection and do take any constructive criticism into account as you revise the manuscript to resubmit. And really research the people you want to submit your book to. Know what those agents are representing and what those editors are acquiring. Doing your homework will really help you to find the perfect match for your book.
Thank you, Julie!
For Sky Pony's submission guidelines:
www.skyponypress.com/guidelines