Are you looking for writing resources? Then you've come to the right place. Each Tuesday, I'll feature resources for teen writers or a market that publishes teens. To start, I've got some great interviews lined up for Tuesdays in November and December.

On Fridays, I'll provide a roundup of resources for writers of all ages. If you're searching for the links from the old version of my website, they'll be included in this new form.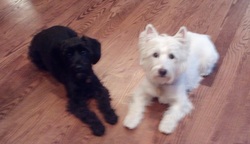 Luna and Rocky
I'm ending this post with a picture of Luna and Rocky, because nothing says "great blog" more than a cute dog photo.